---
TriState JRT Club t-shirts, sweatshirts, hoodies for sale
We are offering TSJRTC Rainier Hunt Classic t-shirts for sale to support the club and to show our team spirit. These items are very reasonably priced, and will make great year-round attire to show off your JRT passion.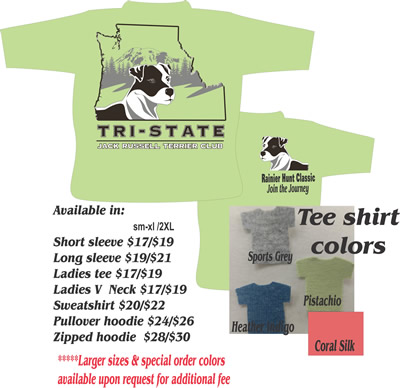 Here is a Size Chart. Choose your price from the list on the right and purchase below. You'll enter the price on the next screen.
If you want the shirt shipped to you, please add $8.00 to the total amount and make a note in the comments below. If you wish to pick up your shirt at the Rainier Trial, please do not add any additional for shipping.
---
Advertising
The Trial Premium is a great place for you to gain exposure to your target audience. Please use this payment button to pay for Premium Ads.
---
Class Sponsorships
Sponsoring a class in the TriState trials, like the Rainier Hunt Classic, shows your commitment to supporting the trial, the members, and especially the competitors. And the publicity for you is a bonus! You can pay for Class Sponsorship with this payment button. Please fill in the appropriate amount in the payment screen.
---
Class Entry Fees
We want to make participating in the trial easy and fun for you, the competitor. So, as you complete your trial entry, you can pay for your Entry Fees here with this payment button.
---
50/50 Drawing
The first 50/50 drawing sold out, but the good news is we have a new 50/50 drawing happening. Both drawings will take place at the Rainier Hunt Classic 2019; the first drawing will take place on Saturday, and the second on Sunday.
Cards will be drawn throughout the day each day; the FIRST card drawn each day will be the BIGGEST LOSER, and will receive a valuable prize. The FINAL card drawn each day will win the 50/50 pot, which will be $540.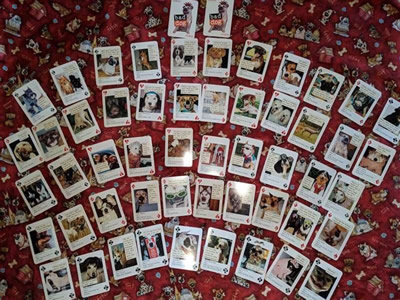 Click the link below to purchase cards.
---
Grand Prize Drawing
Here is another great opportunity to win a valuable prize for a very modest cost. We are doing the Grand Prize Drawing slightly differently this year. You can still buy tickets for the drawing below; they are $5/each, or 11 for $50 (buy ten, get one free). The drawing will be held at the 2019 Rainier Trial, and the winner can select from three prizes of roughly equal value, shown below. Note: the pictures shown are representative of the final prize, but not the actual item.
Shotgun

We will have a user-choice of gauge for this shotgun, from a limited selection.

Impact Dog Crate

This wil be a size 200 (terrier-sized) impact crate for safely transporting your dog.

Robovac/Bissell Crosswave Floor Vac-Mop

This is a combination prize.
To enter this drawing, please select the number of tickets below. As always, you can choose to pay through your PayPal account, or use a credit card.