---
TriState JRT Club t-shirts, sweatshirts, hoodies for sale
We are offering TSJRTC Rainier Hunt Classic t-shirts for sale to support the club and to show our team spirit. These items are very reasonably priced, and will make great year-round attire to show off your JRT passion.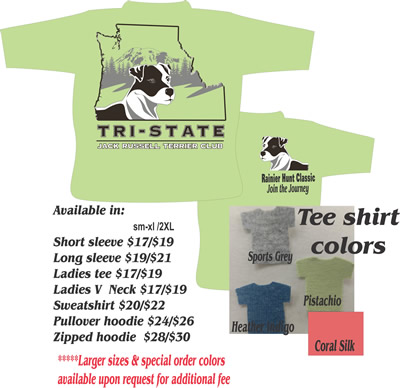 Here is a Size Chart. Choose your price from the list on the right and purchase below. You'll enter the price on the next screen.
If you want the shirt shipped to you, please add $8.00 to the total amount and make a note in the comments below. If you wish to pick up your shirt at the Rainier Trial, please do not add any additional for shipping.
---
Advertising
The Trial Premium is a great place for you to gain exposure to your target audience. Please use this payment button to pay for Premium Ads.
---
Class Sponsorships
Sponsoring a class in the TriState trials, like the Rainier Hunt Classic, shows your commitment to supporting the trial, the members, and especially the competitors. And the publicity for you is a bonus! You can pay for Class Sponsorship with this payment button. Please fill in the appropriate amount in the payment screen.
---
Class Entry Fees
We want to make participating in the trial easy and fun for you, the competitor. So, as you complete your trial entry, you can pay for your Entry Fees here with this payment button.