Learn about JRT trials and all of the events here, in Trialing 101.
---
Tri-State JRT Club Annual General Meeting
The Annual General Meeting has been scheduled. If you are a member of TSJRTC or are interested in the club, you're invited to the AGM. See the Agenda.
---
Rainier Hunt Classic Trial 2019
The trial premium has been released for the upcoming 2019 Rainier Hunt Classic JRT trial. This annual event is a favorite of all Jack Russell Terrier lovers in the Northwest, and this year promises to be an exciting event.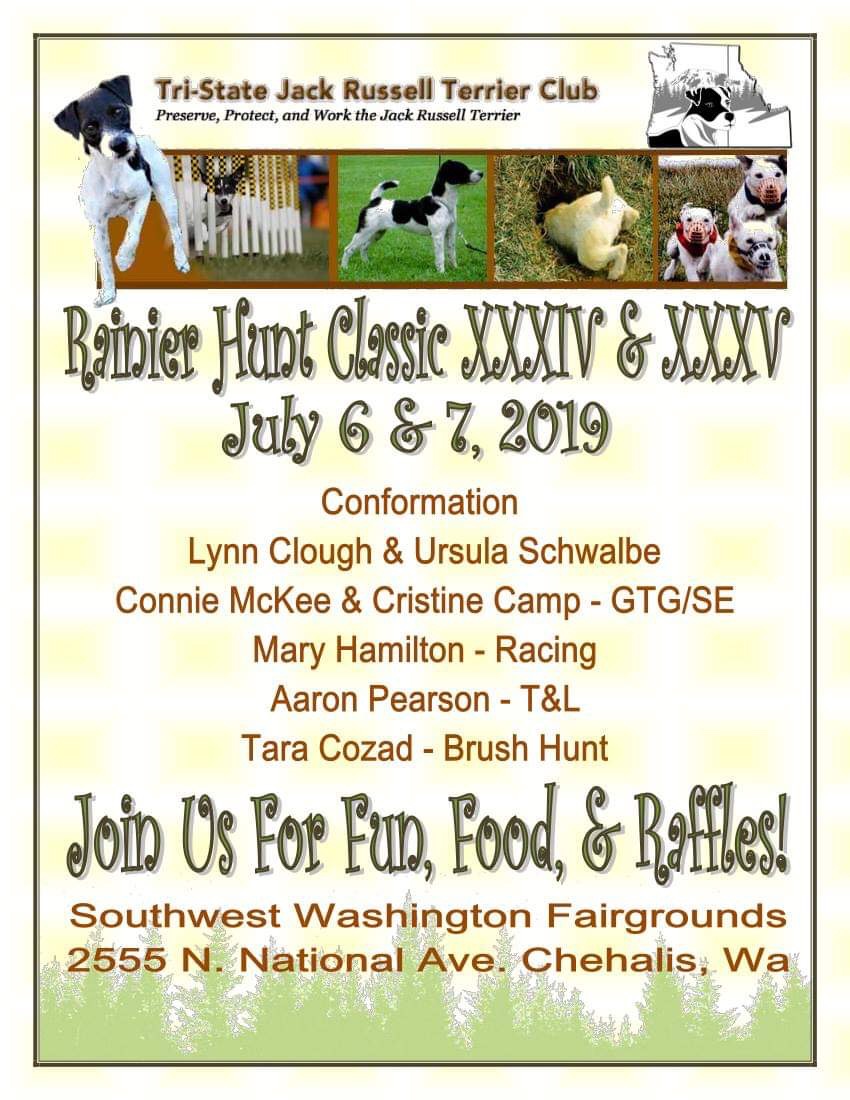 Judges so far have been announced:
| | |
| --- | --- |
| Conformation: | Lynn Clough and Ursula Schwalbe |
| GTG & SE: | Connie McKee and Cristine Camp |
| Racing: | Mary Hamilton |
| Brush Hunt: | Tara Cozad |
| Trailing & Locating: | Aaron Pearson |
---
50/50 Drawing
The first 50/50 drawing sold out, but the good news is we have a new 50/50 drawing happening. Both drawings will take place at the Rainier Hunt Classic 2019; the first drawing will take place on Saturday, and the second on Sunday.
Cards will be drawn throughout the day each day; the FIRST card drawn each day will be the BIGGEST LOSER, and will receive a valuable prize. The FINAL card drawn each day will win the 50/50 pot, which will be $540.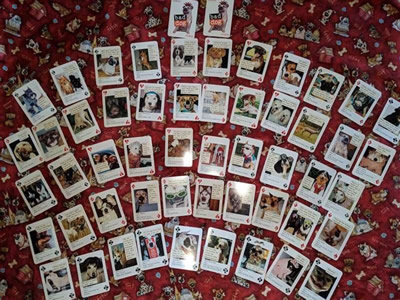 Click the link below to purchase cards.
---
Grand Prize Drawing
Here is another great opportunity to win a valuable prize for a very modest cost. We are doing the Grand Prize Drawing slightly differently this year. You can still buy tickets for the drawing below; they are $5/each, or 11 for $50 (buy ten, get one free). The drawing will be held at the 2019 Rainier Trial, and the winner can select from three prizes of roughly equal value, shown below. Note: the pictures shown are representative of the final prize, but not the actual item.
Shotgun

We will offer a user-choice of the Remington 870 Express shotgun, either 20G or 12G.

Impact Dog Crate

This wil be a size 200 (terrier-sized) impact crate for safely transporting your dog.

Eufy 11S "Robovac"/Bissell Pet-Pro Vac-Mop Combo

This is a combination prize.
To enter this drawing, please select the number of tickets below. As always, you can choose to pay through your PayPal account, or use a credit card.