2022 Treasure Valley GEMboree JRT Trial
The Tri-State JRT Club trial is in the planning stages for 2022! This coming year, we will be in a new location, more centrally located for many surounding states. See the preliminary flyer below, and come check out tthe new digs. Mark your calendars!!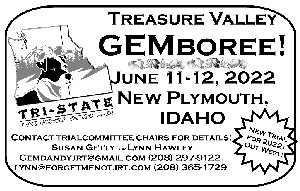 Date: June 11 & 12, 2022
Location: Payette County Fairgrounds, New Plymouth, Idaho
Address: 310 East Blvd, New Plymouth, ID 83655
For more information, contact Susan Getty or Lynn Hawley.
Mark your calendars now for Fun, Food, and Raffles! New location, New date, Come check it out!!